House building in Ireland not expected to meet demand until at least 2020
It is thought that about 14,000 houses will be completed this year, roughly half the amount needed.
IT COULD BE more than three years until Ireland is building enough new homes to meet market demand, it has been predicted.
That is according to stockbroker and asset management firm Davy, which has said that it may be 2020 until housing completions rise to 24,500 – the commonly accepted level required to meet demand in the Irish market.
In a briefing note published today, the firm highlighted the fact that the housing market is very tight, with a relatively low level of properties changing hands.
"The Property Price Register shows that there were 33,136 transactions from January to September, down 4.4% on last year. In part, this reflects the fact that the register is not yet complete, and we estimate that the true decline was 1.5%," it said.
"Nonetheless, after strong growth in residential transactions in 2013 (of 18.5%), 2014 (45%) and 2015 (12.4%), at best a mid-single-digit percentage increase looks likely in 2016. In short, the lack of home building is now holding back the market."
It added: "Ireland's housing market remains highly illiquid. In the UK, housing market transactions in 2015 equalled 1.2 million, accounting for 4.3% of the housing stock. So the average home is sold once every 23 years.
"However, in Ireland, transactions comprised just 2.4% of the housing stock, suggesting that at current rates the average home is being sold just once every 40 years."
Holding back
Davy said that the lack of housing transactions "is holding back the mortgage market" and that the number of houses built last year – 12,666 according to Department of Housing estimates – is equal to "just 0.6% of the stock".
"Mortgage loans for house purchase equalled 23,700 or just 1.2% of the housing stock of 2 million homes," it said.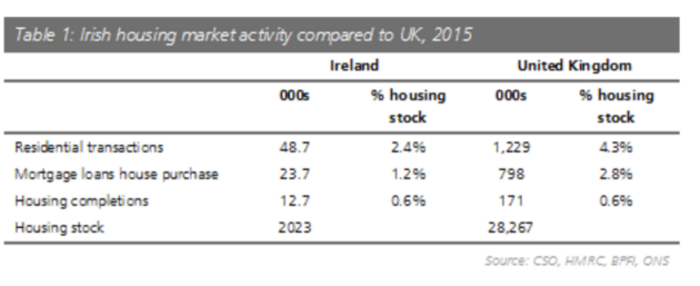 Source: Davy
The broker predicted that mortgage lending volumes will "rise to 42,300 from 23,700 currently".
"This means mortgage lending volumes will rise from 1% of the stock currently to 2% by 2020, still below their long-run average of 3%," it said.
"Crucially, this forecast is based on housing completions rising towards 24,500 by 2020, facilitating lending to first-time buyers."
This level of housing completions is marginally below the annual level of housing demand it is predicted that Ireland needs.
Demand
According to the ESRI, Ireland needs to build 25,000 residential houses per year to meet demand.
Currently, completion rates are well off this figure. While the number of houses built rose earlier this year, it is expected that just 14,000 housing units will be finished by the end of 2016, just over half of what is needed to cope with the expected housing demand.
Davy said that the government's new first-time buyers scheme will likely help to stimulate the housing market.
"In Ireland there were 23,664 mortgage loans for house purchase in 2015; of these, first-time buyers accounted for 13,400 or 57%," it said.
"First-time buyers will have an added incentive to buy newly built homes at the same time that construction is picking up."
Meanwhile, a letter sent by Central Bank governor Philip Lane to Sinn Féin TD Pearse Doherty outlined the banking watchdog's take on the first time buyer scheme.