Tourism officials want to know how to attract more wealthy jet-setters
State-backed body Fáilte Ireland rolled out a Brexit plan today.
IRELAND'S TOURISM BODY is working out how the country could take a bigger chunk of world's multibillion-euro 'luxury travel' market as part of its plan for dealing with Brexit.
Fáilte Ireland's business development director, Paul Keeley, said the state-backed agency is in the middle of a research exercise to see how the Republic could entice more business from high-spending jet-setters.
"Looking around the globe, as society in general becomes more affluent, there is this sense of your holiday as social currency," Keeley told Fora. "People are dialing up what they're prepared to invest in their holiday."
Kelley – who estimated that the luxury segment is worth more than €170 billion globally – said there is a "phenomenon coming through" where wealthy overseas visitors are travelling in smaller groups of multigenerational families.
He said this market is interested in splashing out on one-off events such as significant birthdays and anniversaries.
They are not necessarily looking for five-star hotels but are hungry for "real special-occasion stuff" and "experiences that one wouldn't ordinarily have exposure to", he said, such as hiring out Lismore Castle in Waterford.
"We're trying to figure out whether Ireland wants a chunk of that (market)," Keeley said. "We're looking at how geared up are we for it, if we active in the right markets, if our industry skilled up to present Ireland in the right way."
Brexit programme
Research on building a luxury travel strategy was included in Fáilte Ireland's 'Brexit ready' programme, which was launched today.
The state-backed agency estimated that 300,000 fewer Brits could travel here by year-end based on the decline in UK visitors coming to Ireland to date.
Mainland UK and Northern Ireland are by far the Republic's biggest overseas tourism markets, accounting for nearly half of all trips taken here. The decline in sterling has made Ireland a comparatively more expensive destination for UK travellers.
To help mitigate against this change, Fáilte Ireland is running a series of workshops around the country on how to prepare for the fallout from Brexit.
The sessions will take place in Dublin, Cavan, Bundoran, Cork and Wexford in September and October with more sessions being scheduled until the end of the year.
Fáilte Ireland also launched a 'Brexit-check' website that was developed in partnership with business advisory firm Crowe Horwath.
Tourism businesses can fill in a survey to see how exposed they are to a fallout from Brexit. They can also access training material and online seminars.
Other announcements made today included Fáilte Ireland's plans to spend more money on domestic marketing campaigns in Northern Ireland.
"To date we've tended to reach the Northern Ireland consumer through overspill," Keeley said. "In 2018, we're going to allocate 10% of our total budget directly into enticing Northern Irish visitors here."
[embed id="embed_3"]
VAT rate
The 'Brexit-ready' launch was also attended by a number of big names in the tourism industry, such as Tourism Ireland chief Niall Gibbons and Irish Hotels Federation president Joe Dolan.
Presenting at the event, Dolan – who owns and runs the Bush Hotel in Carrick-on-Shannon – said hoteliers in border counties are hurting the most the drop off in UK tourists because they rely on that market the most.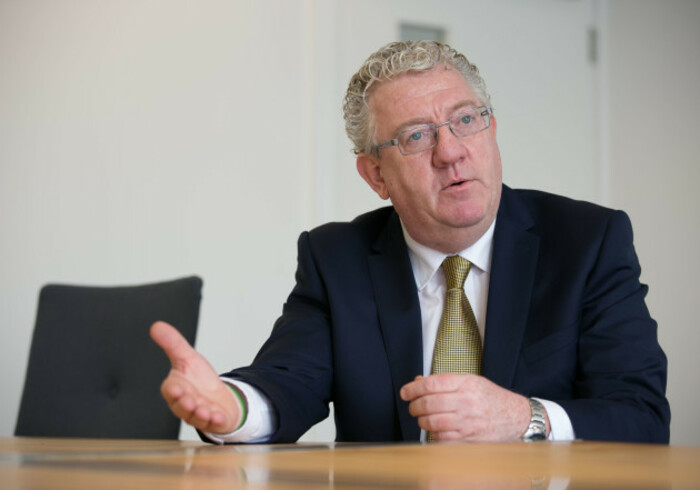 Source: Shane O'Neill Photography
Dolan looked directly at the Minister of State for Tourism, Brendan Griffin, when he mentioned the retention of the 9% VAT rate.
The rate for hotels, attractions, restaurants and other tourism businesses was reduced from 13.5% to 9% in 2011 in a bid to give a much-needed boost to the hospitality trade.
However Department of Finance officials have said the tax break has "done its job" and moving back to the regular VAT rate would yield an extra €500 million for the exchequer.
Speaking later, Griffin – whose family works in the tourism industry – said ending the preferential VAT rate would be "the worst possible thing to do at the worst possible time."
"I think you've seen that it has more than paid itself over the years and it continues to pay for itself," he said.
Sign up to our newsletter to receive a regular digest of Fora's top articles delivered to your inbox.
read more on