Upping eurozone exports is 'not an optional extra' for firms as Brexit looms
Enterprise Ireland wants to increase exports to the region by 50% in three years.
ENTERPRISE IRELAND'S CHIEF has warned that exporters shouldn't see it as an "optional extra" to expand their presence in eurozone markets if they want to protect themselves from Brexit.
Julie Sinnamon was speaking at the launch of Enterprise Ireland's target of increasing Irish exports to eurozone countries by 50% over the next three years.
According to new data compiled by the state agency, Enterprise Ireland client companies reported export sales of just over €4 billion in northern Europe last year.
The figure for southern Europe – which is in the same category as the Middle East, Africa and India – stood at just over €2 billion.
While the UK was still by far Ireland's biggest export market – accounting for 35% of all exports, or just over €7.5 billion, last year – it saw a significant slowdown in growth in 2016, dropping from 12% growth for 2015 to just 2%.
Sinnamon said the figures were a wake-up call that "Brexit's impact is being felt today".
"The UK is our number-one market and it will continue to be our number-one market," she said, but stressed that it was "necessary" for companies to immediately start looking for opportunities in other neighbouring countries.
"It takes a couple of years to develop a new market and (businesses) have to start today," she said.
"Companies need to look at their portfolio of markets to be more balanced in it. Companies shouldn't see it as an optional extra."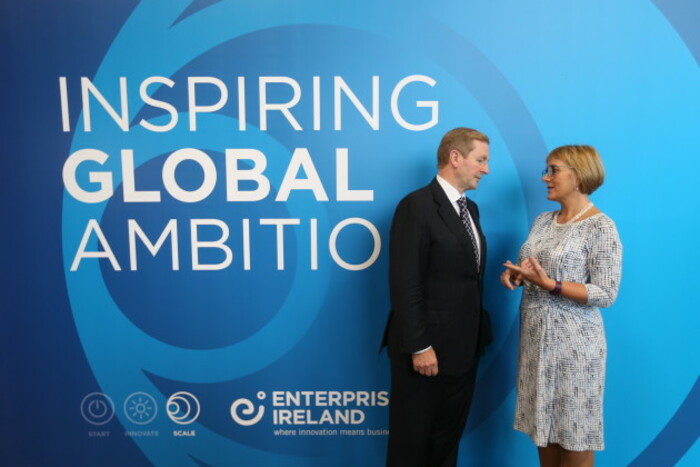 Source: RollingNews.ie
Additional €2bn
Enterprise Ireland today proposed increasing Irish export sales to the eurozone by €2 billion by 2020.
It hopes to achieve this target by doubling the number of trade missions to the eurozone countries to 32 events per year.
It will also increase the headcount at its six European offices and roll out a graduate programme to attract workers with language skills to join companies looking to scale in the region.
Enterprise Ireland hopes to entice companies in growth sectors such as construction, engineering and life sciences to consider expanding into markets closer to home.
"If we look at an area like medtech, we sell more product into Boston than we do to Berlin, and Berlin is so much easier to access," Sinnamon said.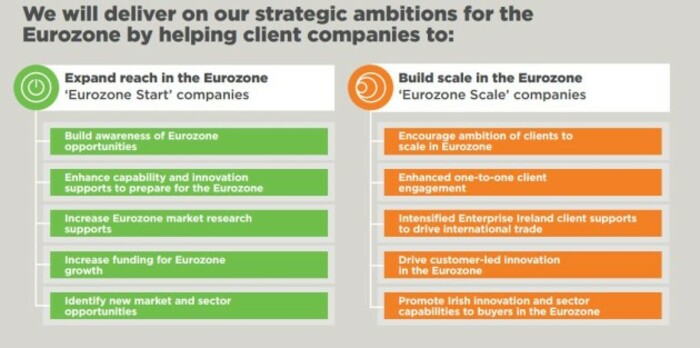 Source: Enterprise Ireland
Click here to view a larger version.
When asked why it took Brexit to convince Enterprise Ireland to encourage work towards increasing eurozone market, Sinnamon said: "The journey hasn't started today."
"Over the last 10 years, we've been increasing the exports to rest of the world faster than the UK," she said.
Sinnamon noted that the although the UK accounted for 35% of Ireland's exports last year, that figure is down from 45% a decade ago, while overall exports grew by 50% during the same period.
In total, exports to international markets last year increased 6% to €21.6 billion in 2016. The US and Canada saw the biggest increase, up 19% to €3.7 billion last year.
Sign up to our newsletter to receive a regular digest of Fora's top articles delivered to your inbox.
read more on