What Irish entrepreneurs can learn from an ex-Navy Seal
Former commander Curt Cronin shares leadership advice from his time in the elite force.
BUSINESS LEADERS DON'T have to make the same life-or-death decisions as elite military forces – but that doesn't mean lessons from the battlefield can't be translated to the boardroom.
Former US Navy Seal commander Curt Cronin spent 16 years in the service and now dedicates his time to adapting military leadership technique to help chief executives and founders become better decision makers.
Cronin was recently in Ireland speaking at Dogpatch Labs, where he told a room of entrepreneurs he was drawn to working with Irish people because of their eagerness to learn, desire to work with others – and because they weren't comfortable with the status quo.
Among other projects, he is currently working with Irish software startup founder Eamon Leonard on his new project Cohort, an early-stage company set up to help people make better use of their professional social networks.
Leaving the Navy Seals
After over a decade of service with the Navy Seals, which included 18 deployments and a stint as personal bodyguard to Iraqi president Jalal Talabani, a combat incident led him to leave the military.
On 6 August 2011, 25 Navy Seals on Cronin's team died in a helicopter crash while on a mission in Afghanistan.
He said this moment taught him a lot about seeing his problems for what they were and not letting emotions get in the way of making the best decisions.
"The story I could have made up about (the crash) was I had post traumatic stress disorder and dream myself into oblivion – and people would give me that truth," he said.
Rather than fall into this pit, Cronin said he identified he actually had "post traumatic growth syndrome".
He said the adversity encouraged him to start teaching people about leadership and "convey the amazing lessons I learned from those (who died)" so their lives weren't lost in vain.
Since leaving the Navy Seals in 2011, Cronin has given pointers on leadership to clients that include AOL, Hewlett-Packard and the Miami Dolphins.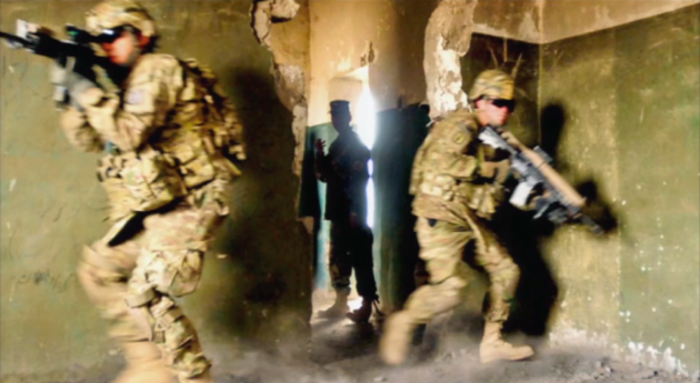 Here are three of Cronin's tips for business leaders:
1. The perfectionism trap
"I will tolerate hundreds of thousands of errors in judgement. If someone makes a mistake when they are doing the best they can, the last thing I want is a fixed mindset because then they won't make a decision the next time.
"The minute you have that perfection mindset and people are scared to make a decision, then everything starts to fail. People have to feel free to act and do the best they can."
[embed id="embed_3"]
2. Don't take on your teams' problems
"I used to be the number-one enabler and loved to help. So people would come in Friday afternoon and say, "Hey, I've got this monkey on my back. Can I hand the monkey to you?" and I'd say, 'Absolutely, I'll take the monkey'.
"That trained them to dump their problems in my office and then leave. So I had to switch. I started to ask them what is their challenge and how would they solve it. They would tell me how they would approach it and I'd say, 'Go do that'.
"I try to set the conditions where I stop taking the problem. I say I'm happy to help with anything, but they need to take the monkey and leave."
3. Avoiding employee burnout
"Burnout usually doesn't come from exhaustion, it comes from being tasked with doing things people don't think matter. This is the purpose of their job, so you redefine purpose.
"Someone could think they are laying bricks and that's not very exciting. But instead, show them what they are doing. Are they building a wall? Is that person is building a cathedral? That context changes the game."