'Everybody said the travel agent is dead and the internet will take over. But it was just hype'
As part of our How My Business Works series, we profile Cathy Burke of Travel Counsellors.
WHEN CATHY BURKE left school at 15, she had no idea what she was going to do – all she wanted was a job.
"Back then it was pretty unusual to leave school after the Inter Cert (a predecessor to the Junior Certificate). In my year in school I think only two of us left – myself and my best friend," she tells Fora.
"My parents were really not keen, but I was adamant – I just wanted to be out in the big bad world, I wanted to work."
Burke completed a business course and went to work at a solicitor's office, but she says that it wasn't as "young and trendy" as she had hoped, so she began to look elsewhere.
"One of my friends was working in a travel agents. I met her for lunch one day and she said they were looking for typists, so I went for the interview and I got the job."
Even though she didn't have much experience with travel, she says that it was an area that really excited her.
"Back in those days, the only time I'd ever left the country was to go to the UK to visit relatives, but I had a cousin who was an air hostess, as they were called back then, with Aer Lingus.
"She just looked so glamorous, and she filled my young ears with stories of exciting places that I thought I wanted to see."
Source: PA Archive/PA Images
Starting out in the industry, Burke quickly learned that there was really "no such thing as international travel" in Ireland – certainly for the average punter – in the 1970s.
"At the travel agent the biggest thing we did was Dublin-London, which probably cost the equivalent of €900 now. The only people who travelled by air in those days were people on business or people who were very wealthy," she says.
"People didn't really travel for leisure, certainly not where I worked, because they didn't have the money."
As she got more involved in the business, however, Burke got the opportunity to go to places all across Europe and was bitten by the travel bug.
"I guess I loved it so much that I never considered another job."
Developing a business
Burke continued in the industry, working at a number of travel agents in Dublin before becoming the general manager of Creation Travel in the 1990s.
"But shops started to close, things started to change, and for me it started to become a bit same old, same old," she says.
"In 2000 I decided that I would set up my own business, providing consulting and training for travel agents. I would go all around the country, helping them to look at their business in a different way, from the front window to the back office."
But a few years later, a new opportunity came knocking. Burke was approached by UK-based company Travel Counsellors with the job of setting up their Irish operation.
"It was very exciting. I just got an email one day saying I'd been recommended to them by some people in the trade. I remember ringing my husband saying, 'Oh my God, you're never going to believe this'.
"Then I went for meetings in the UK and the rest, as they say, is history."
Travel Counsellors is an international travel company based in Manchester, with offices in Ireland, the Netherlands, Australia, South Africa, Dubai and Belgium.
The company, which was established in 1994, 1,800 self-employed travel agents around the world.
The agents are all franchisees, working from home or their own offices. They handle the travel bookings for their customers, however they pay for access to Travel Counsellors' buying power, marketing, training and other resources.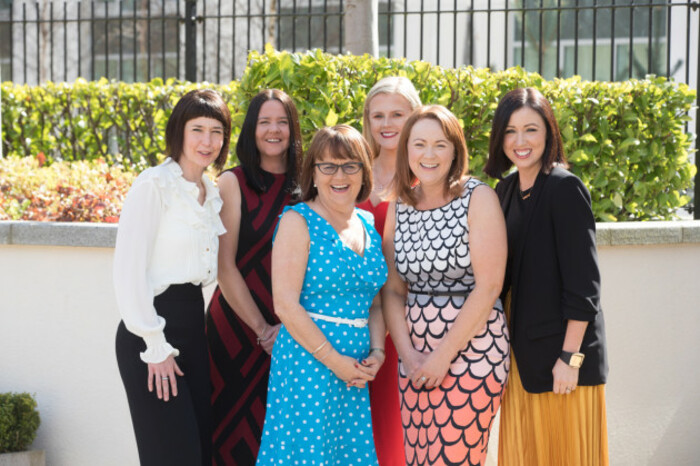 Source: Travel Counsellors
In the Irish operation, Burke works with five staff based in a national head office in Cork and oversees 75 travel agents working across the country on a franchise basis.
"The majority of our counsellors are people who have either worked in the travel industry their whole lives, like me, or people who have travelled extensively but don't have the background to set up their own business, so they come to us and we teach them how to do it.
"Using our tools they market themselves locally and build a bank of customers, mostly based on referrals."
Burke also has an international role in the company and is involved in business development in some of its other markets.
"That's what I love because it means I get to travel more and experience other cultures where customers want different things."
Industry changes
In her 40 years in the travel industry, Burke has seen some significant changes in terms of what customers are looking for.
"When I started in 1978 it was mostly London, but now a travel agent would never book that because people can just do it themselves," she says.
"In terms of holidays, people don't want to 'fly and flop' anymore. They want some level of adventure or experience and don't necessarily want to lie on a sunbed and eat for Ireland for a whole week."
With Travel Counsellors, Burke says that the company still organises a lot of family holiday to Spain, Italy, Portugal and France, but clients are regularly going further afield now and packages to the US, Canada, South America, Australia and South Africa are becoming more popular.
The other big change came from the introduction of new technologies, but Burke says that this didn't shake the industry as much as people would think.
"When the internet came along, everybody said the travel agent is dead and the internet is going to take over from everything," she says.
"You listen to the hype when you're working in that business – but it was just hype."
Even with the ability to book flights, accommodation and find information about a destination online, Burke says that there's still a place for travel agents in the 21st century.
"I think it's about information overload. When people are going online themselves – I do it myself sometimes when I'm researching a destination – you sit down at the laptop and three hours later you lift your head and you still don't have a clue.
"People are time-starved and they just want to talk to somebody who has experience, who has a first-hand view. Plus Irish people are a nation of talkers – they don't want to shop online the whole time."
Challenges
Burke has experienced several economic downturns over her career, but says that the most recent recession was particularly difficult for Ireland's travel industry.
"Travel agencies were closing down around us and the biggest challenge was just keeping yourself motivated, keeping staff motivated and not getting sucked into the doom and gloom."
However, she says that Travel Counsellors was at an advantage because it didn't have a brick-and-mortar presence like high-street travel agents.
"We were able to adapt because we didn't have that huge overhead to worry about. We were able to go out to people in their homes or chat on the phone.
"Even in the worst of the recession period, growth probably slowed down a little, but year on year we continued to increase our sales and profit."
Last year, Travel Counsellors recorded revenue of €26 million in Ireland and Burke expects revenue to hit €30 million this year.
The company delivered a pre-tax profit of €1.2 million in 2016, according to its latest accounts, a 27% increase on the previous year.
During some of the more difficult economic times, Burke says that she thought about changing career, moving into travel writing or journalism.
"But now there's no way I would ever consider leaving. I'm here until the end," she adds. "I see the business growing further and becoming more successful – the sky's the limit."
This article is part of our weekly series examining the nuts and bolts of businesses. If you would like to see your company featured please email news@fora.ie.
Sign up to our newsletter to receive a regular digest of Fora's top articles delivered to your inbox.