Limerick waste software firm AMCS is hunting for more deals after its latest acquisition
The company added a German rival to its lengthy list of takeovers.
ALMOST A YEAR after raising a bumper venture round, Limerick software firm AMCS has secured fresh finance and added another acquisition to its books to secure its expansion in central Europe.
The company, which develops software for the waste management and recycling industries, scooped up Germany's Recy Systems in the latest deal.
Recy makes software products and apps for recycling businesses to manage production operations, logistics and customer relationships.
While AMCS secured €100 million from investors last year, the Recy deal was financed by a recent injection of debt capital from Silicon Valley Bank (SVB). AMCS has not disclosed any figures for the SVB loan or the Recy deal.
AMCS's Europe boss Freddie Kavanagh said the firm uses a blend of venture capital investment and debt finance to fund its operations and deals.
"We've built up through our VC funding some capacity over the last 12 months," he told Fora.
"(Growth) can be done through a mixture of debt or the money that we have from the investments that have been made by VCs."
The acquisition of the German company, which also has offices in Slovakia, UK and US, will bolster AMCS's position in the central European market, bringing the Limerick company's total customer base to 2,400 with the addition of another 600 clients.
"It's very hard to sell into central Europe and particularly into the German market without having an established group, particularly for larger companies," Kavanagh said.
"They expect you to be on site, they expect you to be local and have the language and all that sort of thing."
Kavanagh added that the German company's expertise in the metal recycling sector will help fill some gaps AMCS had in that area.
Acquisition trail
Within the last year, AMCS has completed two other acquisitions in the waste management software industry: the US business of UK firm Brady Recycling Solutions and Florida's DesertMicro.
It has carried out eight other acquisitions in several markets since 2011, including in Ireland, where it bought Sendrr.
Kavanagh said the company has had strong organic growth, particularly in the last year, but customers in the waste industry tend to stick with one vendor for the long haul, making securing new clients difficult.
"In order to accelerate our growth, (buying) companies like Recy, which have an established base, it allows us to grow our recurring revenue, software revenue quite quickly – much more quickly than we would organically."
He added that the firm is "always on the lookout" for acquisitions whether for tech talent or market share.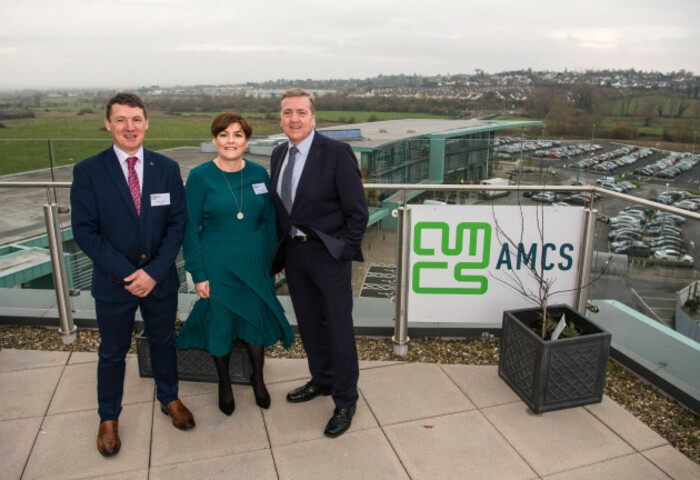 Source: Diarmuid Greene
AMCS, which is headed up by chief executive Jimmy Martin, employs around 450 people and announced last November that it would be hiring 100 more people at its Limerick base over the coming years to further boost growth.
The latest accounts available for AMCS show that in the year to the end of 2017 the company had a turnover of €46.7 million with a loss of €7.6 million.
"We're already in really strong shape financially, and we're already I think at a point where our recurring revenues are strong enough to fund the business and the operation of the business," Kavanagh said.
Get our NEW Daily Briefing with the morning's most important headlines for innovative Irish businesses.