What does the US election mean for global markets?
Markets foresee a Trump victory but investors are keeping a close eye on the Democratic primaries
DESPITE A SIGNIFICANT amount of international interest in US politics over the past number of months, markets have largely brushed aside political drama to focus on other economic and geopolitical risks. 
The effects that Covid-19 and its containment will have on global supply chains are now at the centre of attention for investors. 
Alongside the spike in coronavirus cases internationally, February brought with it a significant increase in volatility across all asset classes.
This period of upheaval produced the fastest 10% correction in history for the S&P 500 Index, a record low in ten-year US rates, an emergency rate cut from the US Federal Reserve, and notable selling pressure on the US dollar. 
In the aftermath of Super Tuesday, betting markets have shifted considerably in favour of Joe Biden winning the Democratic nomination.
His odds of victory in the primaries are now given at around 70%, versus Bernie Sanders, whose odds were slashed from 60% before Super Tuesday to just 25% in the aftermath. 
The immediate market reaction to Biden's ascendancy resulted in a slightly stronger dollar and only a small bounce in US equities – which suggests that the market had not given Sanders much of a chance in the first place. 
Getting behind a candidate
With momentum split between Sanders and Biden in recent weeks, the chance of a Republican victory in the general election has been steadily rising.
However, the Democratic Party is beginning to coalesce behind Biden, as reflected by the growing number of endorsements the former vice president has received.
Accordingly, global markets have been relying on two main theses, the first of which is that a progressive Democrat like Sanders would struggle to hold onto momentum in both the primaries and in an election.
Secondly, markets generally believe that Biden does not pose a significant threat to President Donald Trump, as things stand currently. 
Markets have largely ignored the earlier momentum behind Sanders and the current momentum behind Biden, so the political risk premium in US equities and the US dollar has not materially shifted. 
The effect on the US equity markets and the US dollar will certainly be significant depending on who wins the Democratic nomination.
Ultimately, however, if a Democratic challenger began to look like a serious threat to President Trump, it would result in weaker equity markets and a weaker dollar.
This is because whoever wins the Democratic nomination is likely to want to roll back Trump's corporate tax cuts and reverse his 2017 household tax cuts, a difficult sell for investors given anaemic global growth on the back of a prolonged manufacturing recession.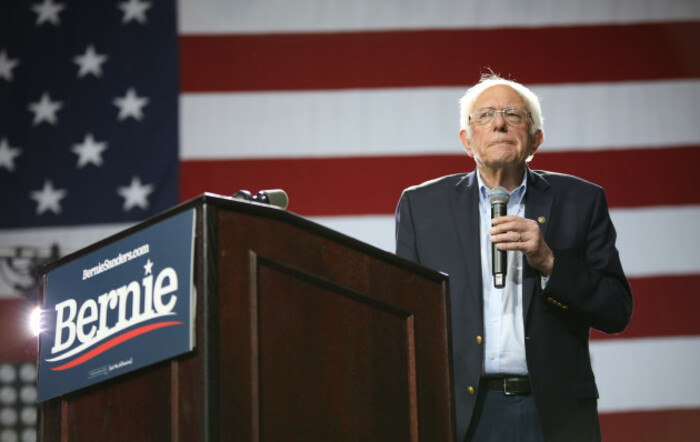 Source: Alexander Seyum
The Democratic challenger is also likely to want to strictly interpret the 2010 Dodd-Frank Act, legislation signed into law by President Obama that overhauled federal financial regulations.
This would be in stark contrast to the Trump administration's more lax attitude toward the Act and could weigh on the sector, ultimately impacting US markets.
There is also the potential for significant market moves arising from diverging policy goals among the candidates in areas like wealth taxes, regulation and Medicare. 
Senator Sanders, for example, plans four additional tax brackets and a 1% tax on personal net worth of more than $16 million, rising to 8% for wealthier households. 
Additionally, Sanders' 'Medicare-for-all' proposal represents an existential threat for private insurers. 
If enacted, these policies could result in significant capital outflow from the States, weighing heavily on stocks and the US dollar.
[embed id="embed_2"]
Approval rating 
In any event, it will certainly be an interesting campaign for President Trump. 
In the last 88 years, an incumbent US president has never failed to win re-election unless a recession has occurred during their time in office. 
But the Covid-19 outbreak and the Trump administration's handling of it could pose a risk to his re-election campaign. 
It is also worth noting that never before has an incumbent President been so unpopular – Trump's approval rating stands at just 46% – while the US unemployment rate has been so low. 
We have also never seen a US election so soon after an impeachment process. 
However, betting markets continue to favour Trump over both Sanders and Biden.
Investors also believe that a Trump victory is the most likely outcome, which would likely keep the dollar and equity markets strong.
Ultimately, it's still early days in the 2020 election race, and a lot can happen between now and the Democratic National Convention in mid-July, and from there to election day. 
Much hinges on the momentum behind Democratic candidates and whether the party can find a nominee they can coalesce around. Investors will be keeping a close eye given the significant impact that Democrat success could have on both US asset values.
It is also important to remember how complacent analysts and pollsters were before the last presidential election. 
Cian Pierce is an analyst with Bank of Ireland Global Markets.
Get our Daily Briefing with the morning's most important headlines for innovative Irish businesses.